I have listed a "handful of projects" that are all in some stage of completion below with a brief description.
http://www.ahernbrucker.com/
This is our Main web site, a project in it's own. Each one of the designs are our own originals and a
compilations
of a lifetime of dedication and effort on Carol's part.
All of the content is my work but many thanks to some folks who would occasionally write and point out some
miss
-spelled words and other more serious
grammatical
atrocities.
While the web site is difficult to navigate and loading time is abnormally long due to the number of photos on each page, those who take the time to really search will find some amazing designs...
tp://www.ahernbrucker.com/basicmansring/patriotringentrance.htm
The Basic man's ring-Patriot edition in a limited edition of 250.
This is a project Carol and I have had on the drawing board for several years… I am the designer of the basic man's ring and thought a red white and blue ring would be a nice alternative to the .39 cent American flag lapel pin. Currently, this piece had had very little no no marketing exposure. It took us a few years to finally assemble the most perfect stones money can buy and is finally complete. We are making the first 2008 pieces in platinum with the same quality stones starting at $12,500.
http://www.ahernbrucker.com/basicmansring.htm
This is the Basic man's ring line and includes 18k 2 tone versions as well as 18k white solid and platinum. and all of the stones are
amongst
the finest in the world…
The two tone version consists of 4 pieces perfectly fit together with a variety of gem stone combinations to choose from.
We also limit these rings to 50 pieces per year.
Prices seem to range from $7500 to $12,500
http://www.ahernbrucker.com/upload/yinyangpendants.htm
This is a design we first made for a woman in
Hawaii
for her husband and over the
years
we have worked it into something that we feel will be a big seller. it is designed for one or two wearers and can be sold individually as one or two pieces)
We have this available in 3 different sizes and each side can have any number of choices for a gem stone...
Prices range from $1,200 to $7,500.
http://www.ahernbrucker.com/nakeychn.htm
This
is a design available in a pendant and or earring package as well as the key chain aspect.
This
I feel also has potential as a big seller.
We can make this to fit pretty much any price point but, we are only going to offer it at the higher range... 18k or platinum.
This design can also be used for any number of accessories from bolo tie to zippo lighter cases.
http://www.ahernbrucker.com/upload/whistles/whistles.htm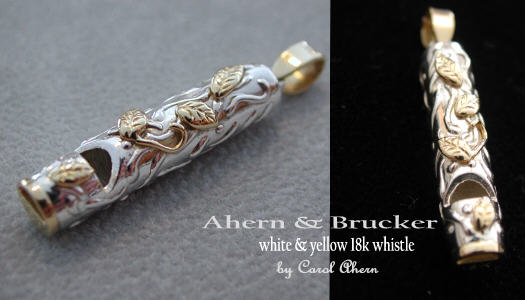 Our whistle project was inspired from a customer in New York who had a "slight" voice. She
commissioned
us to make her a 18k gold whistle without making her look or sound like a referee when she was seeking to get someone's attention.
we have made quite a few different designs since than and most are reproducable... (check out the snow flake whistle:)
http://www.ahernbrucker.com/Whitewolfentrance.htm
What can I say? The single biggest thing we may be known for is making the finest wolf jewelry in the world… (along with mushroom jewelry) We get more hits and customer inquiries on our wolf rings than any other design.
Prices range from $350.00 to $10,000 +
http://www.ahernbrucker.com/upload/accessories.htm
All of our accessories are a project in and of
themselves
. These are all pretty niche items.
This 18k & sterling wolf bolo is only one example of many. But, it is completely hand fabricated and the leather is the finest and consequently most expensive hand twisted leather available in the world.
This original is $2500.00
http://www.ahernbrucker.com/upload/startofinishrobincporing.htm
This is the U.S.Navy CPO ring which when you see it should inspire you to imagine the center piece being replaced with any number of insignias.. In my opinion, the US navy should
commission
us to make one for every man and woman in the Navy including the supreme guy in charge. If anybody has the contact for that contract you can just consider yourself hired.
18k with rubies, diamonds and sapphires is just not enough to say about this... you really need to check out this link to see how it was made... talk about effort on Carol's part!
htt
p://www.1offs.biz/
Limited editions of 288.
Our Primary Goal is to bring these fine original works of art and limited recreations to the attention of one or two buyers. These buyers will have vision , the wherewithal, marketing strength and knowledge who can visualize and realize a mutually profitable win-win-win relationship.
Our secondary goal is to offer an individual or marketing concern the opportunity to become an affiliate/partner with an individual design and designer. This person or group would handle all the marketing of an individual product exclusively with repeat business and a ready supply of new designs to fill very specific high end niche jewelry markets...
Firefighter tribute ring:
ahernbrucker-fire fighter ring